Pool Cover Specialists - Customized Automatic Safety Covers For Any Swimming Pool Shape
If you are like most swimming pool owners you may have fallen victim to the the cover-related myth that only "standard," rectangular pools can have automatic safety covers. The fact of the matter is this is simply not true. Pools of virtually every shape and size can be protected by an auto cover.
To help debunk the myth, we created this free eBook to help outline all of the great benefits of adding a Pool Cover Specialist auto cover to spa & swim spas, gunite/cement pools, fiberglass pools, vinyl liner pools, and more.

Inside You Will Learn...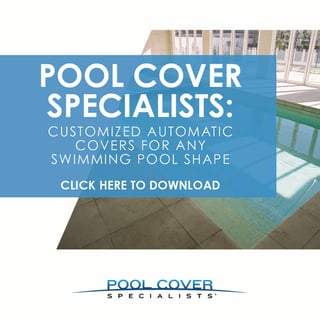 How an Automatic Safety Cover Can Protect Your Unique P

ool Design

The Many Benefits of a Pool Cover Specialist Auto Cover
Which Pool Materials Will Allow For an Auto Cover
How to Choose the Right Pool Cover For You
Commonly Asked Pool Cover Questions
To receive this eBook for yourself simply fill out and submit the form below, and the eBook will be delivered directly to your email.