Pacific Pools Vinyl Liners Brochure
Pacific Pools vinyl liners not only give pools a new life, but their full list of additional features and array of designs give pools an entirely new look as well. Better still, Latham's Ultra-Seam technology means you're getting the strongest seams possible in a liner, and they're virtually invisible. See for yourself.
This brochure will introduce you to Pacific Pools vinyl liners. Inside we cover: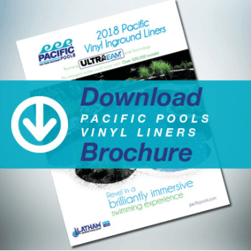 Brief history about Pacific Pools
What Ultra Seam technology is all about
Browse available patterns and colors
Exclusive new Pearlscape collection of vinyl liner patterns
New features for 2018
To get this brochure for yourself, fill out the form to the right and it will be sent direct to your inbox. After reading it, an automatic safety cover might jump to the top of your list!